January 9
The last day. I'm leaving on the 10th, at 5 in the morning. Happy and sad, it was a great trip. Anyway, we hiked around Danbull national park for a couple of hours (and almost got lost), then drove down to Cairns. The brakes of the van started squealing when I drove down the mountain, even though I was driving as fast as possible to avoid using them.
Needless to say, Barbara was extremely pleased by my great concern for her brakes. We arrived in Cairns and checked into a hostel, and spent a couple of hours drinking beer and setting up an ad for her campervan, which she'll sell once she's back in Sydney. When we were done it was past 10, and we wanted to go out for dinner. Barbara insisted that everything would be closed, which I didn't believe.
I drove around for almost an hour, and every place listed as open on Google maps or Yelp was either closed or had moved. When I parked at the last place, I noticed a parking meter, and wanted to park somewhere else to avoid paying. I pulled out quickly to get in before traffic, and promptly hit the parking meter, causing a massive dent on the side of the van she had just listed for sale. I'm sorry Barbara!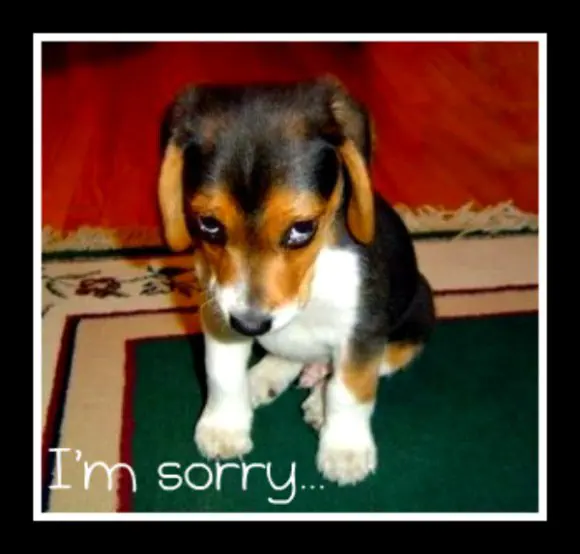 She took it with style. We went back to the hostel and cooked spaghetti. Thanks for a great trip, Barbara
January 8
After a short hike through the rainforest around Crocodylus village we took off southbound and crossed the river again on the ferry. We drove away from the coast into the Tablelands - along the way we bought some Mango wine, and I bought an Akubra hat from a small store with a very nice owner. Very fittingly, the model is the "Tablelands" - the new model from Akubra, as the owner assured me. I feel so fancy. He didn't have leather hats though, so Barbara still has to get one later. The campground was a pretty nice place on a lake with a lot of birds and a breathtaking night sky.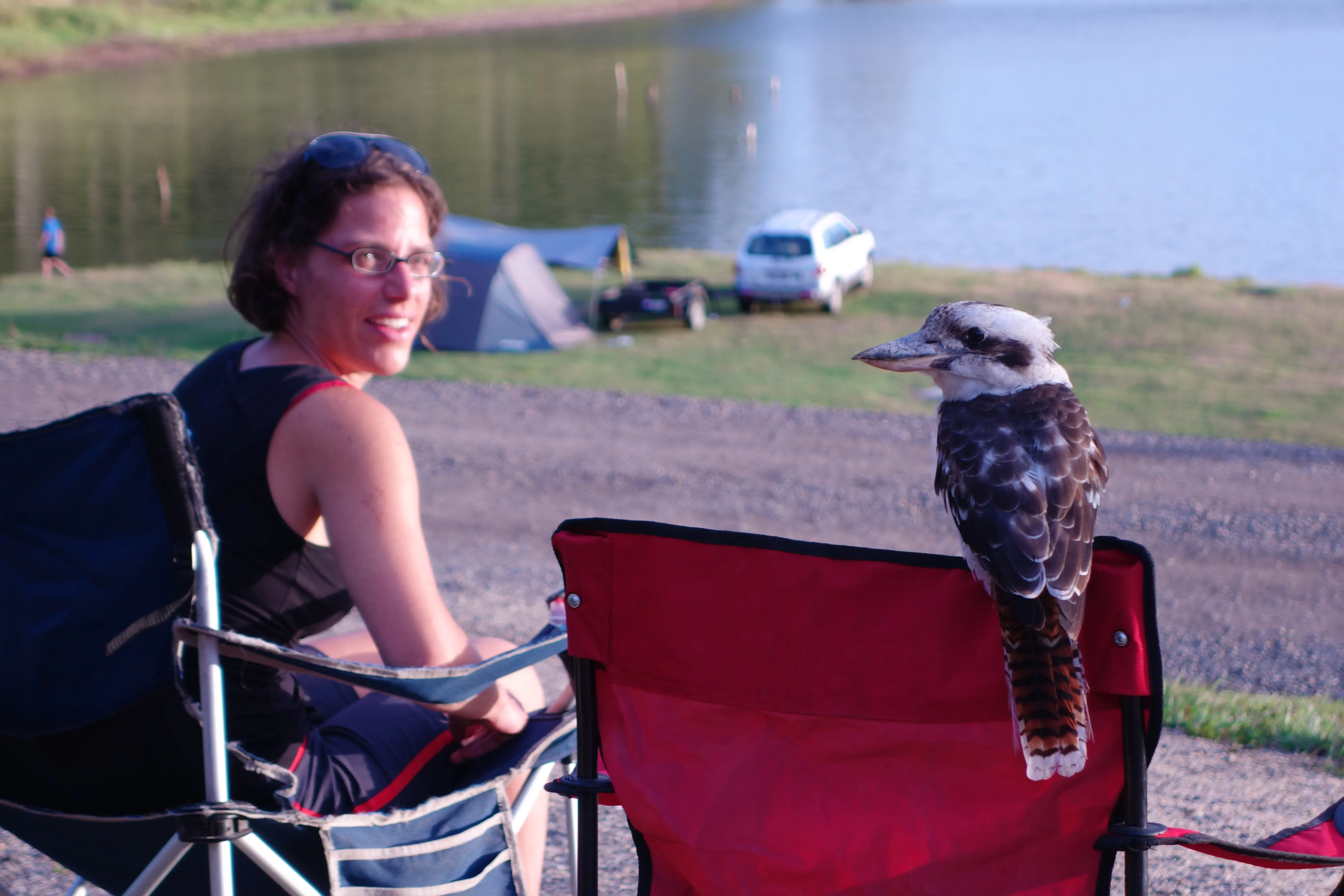 And here is the tarp construction which allows us to breathe at night: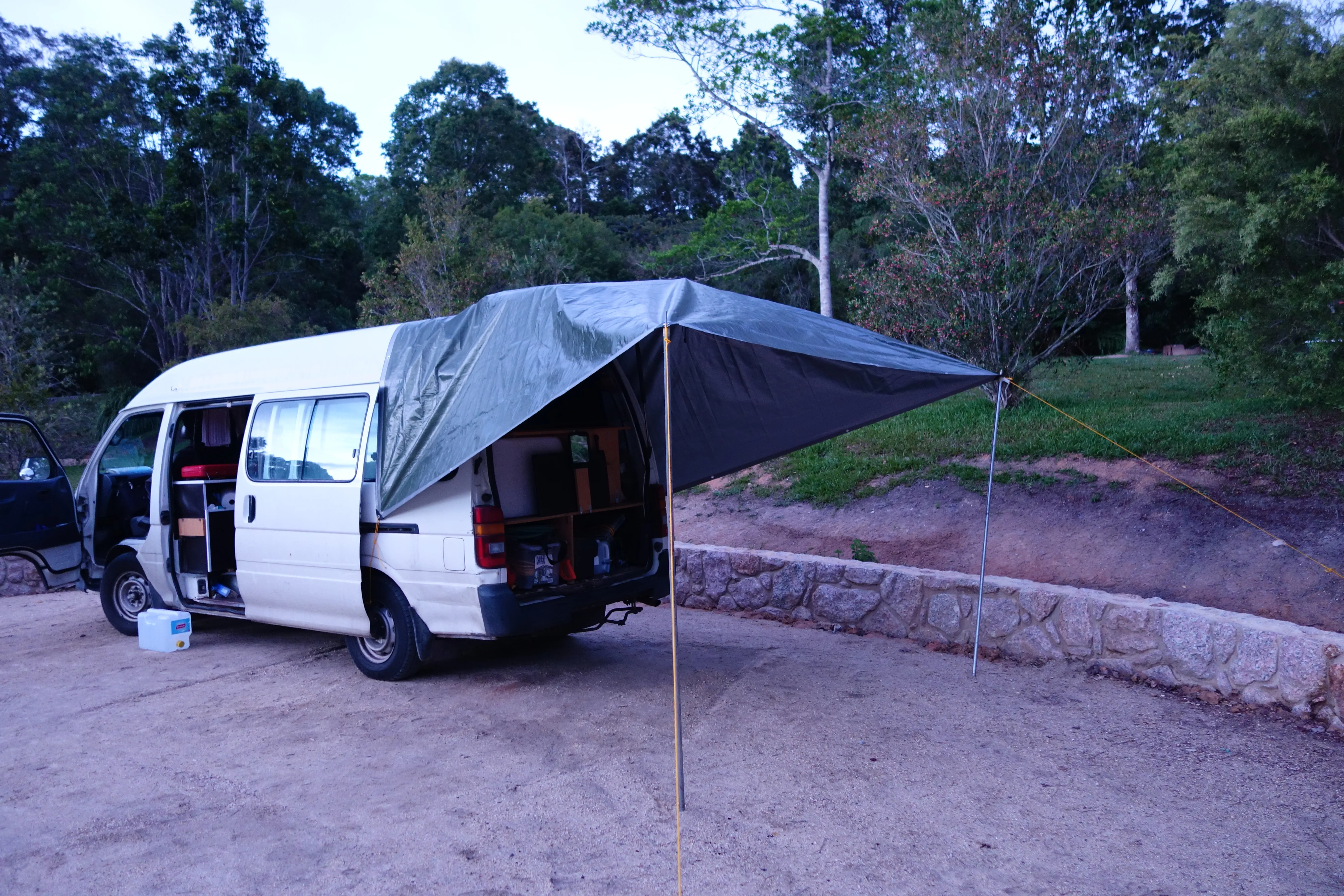 I have been called a "knot nazi" because I insisted on using proper trucker's hitches to tension the tarp. Knot nazi! Me! The nerve! There is even a song about the trucker's hitch.
January 7
Some pictures of Crocodylus village (sadly no crocodiles, again). If you are in the area: go there.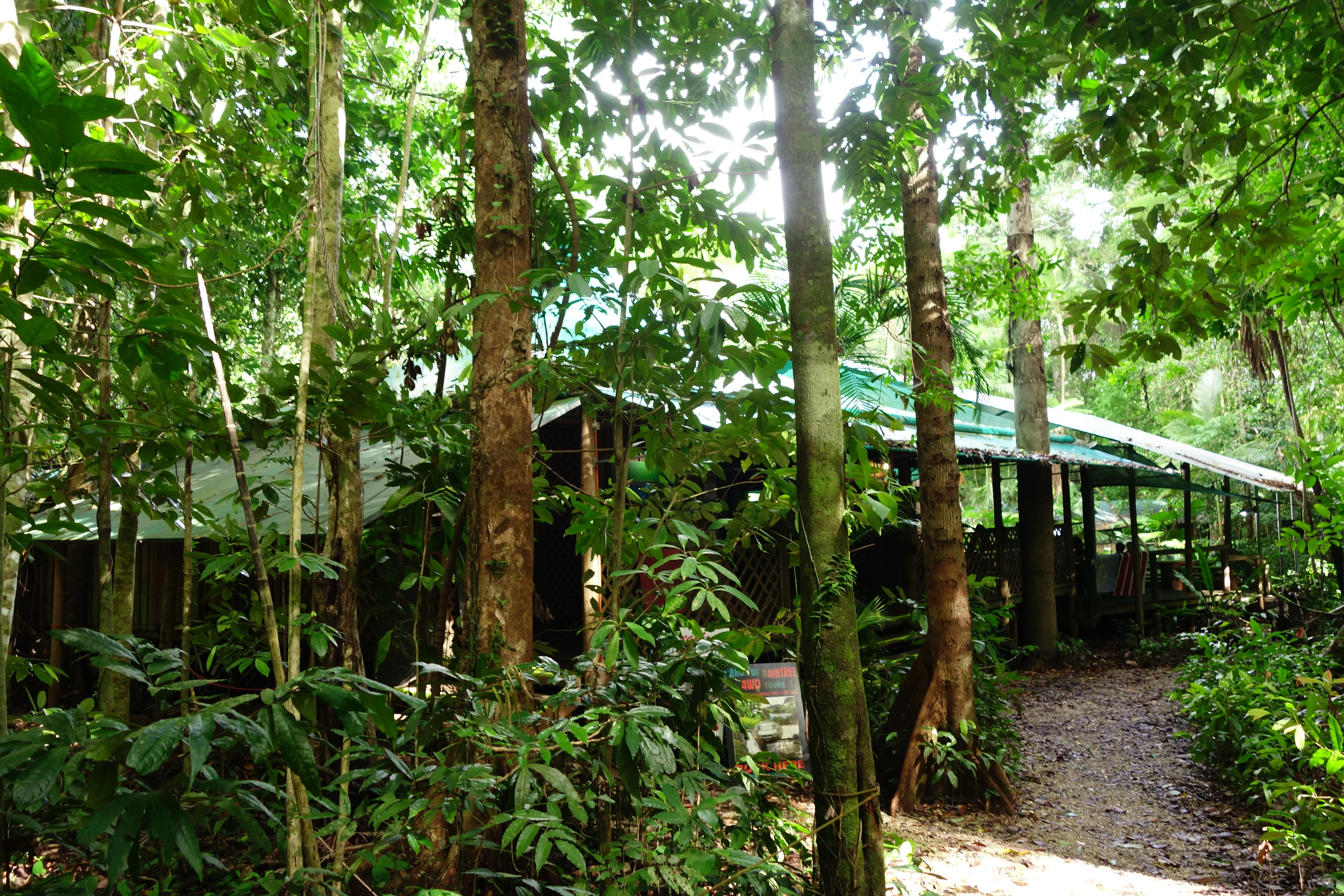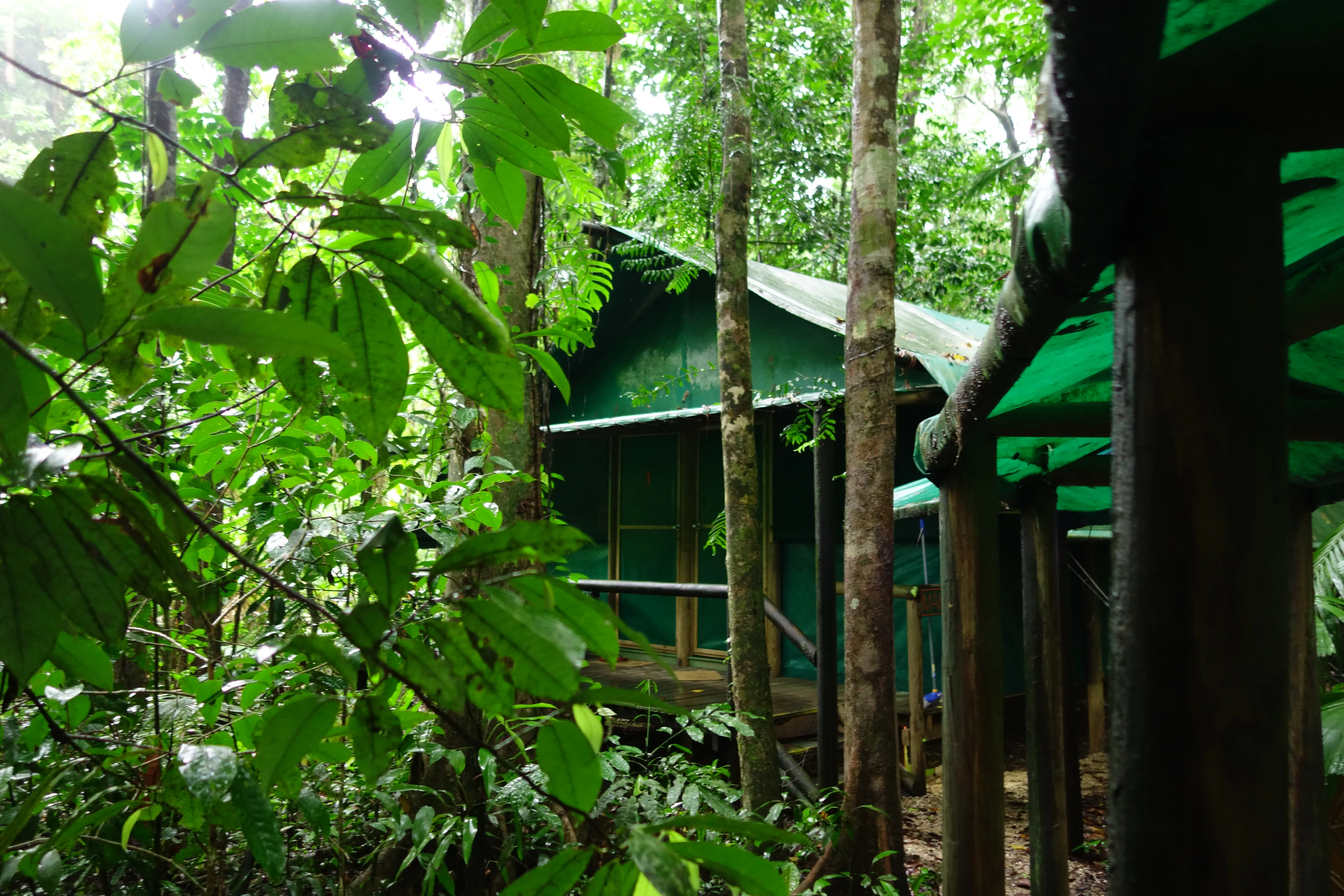 The snorkeling tour to the great barrier reef was amazing. Two hours in the water are exhausting, I had blisters on my feet from the fins. My camera isn't waterproof, so no pictures from there. I saw a couple of turtles and stingrays as well as countless colorful fish - Barbara missed the turtles but saw a shark instead. We stayed at the Crocodylus Village for a second night.
January 6
We left from Babinda, passed Cairns and took a ferry to Cape Tribulation. Not a very promising name, but we checked into a hostel called Crocodylus Village, built into the rainforest. Absolutely fantastic, a magic place. No pictures except of this Gecko climbing onto a glass with a candle in it: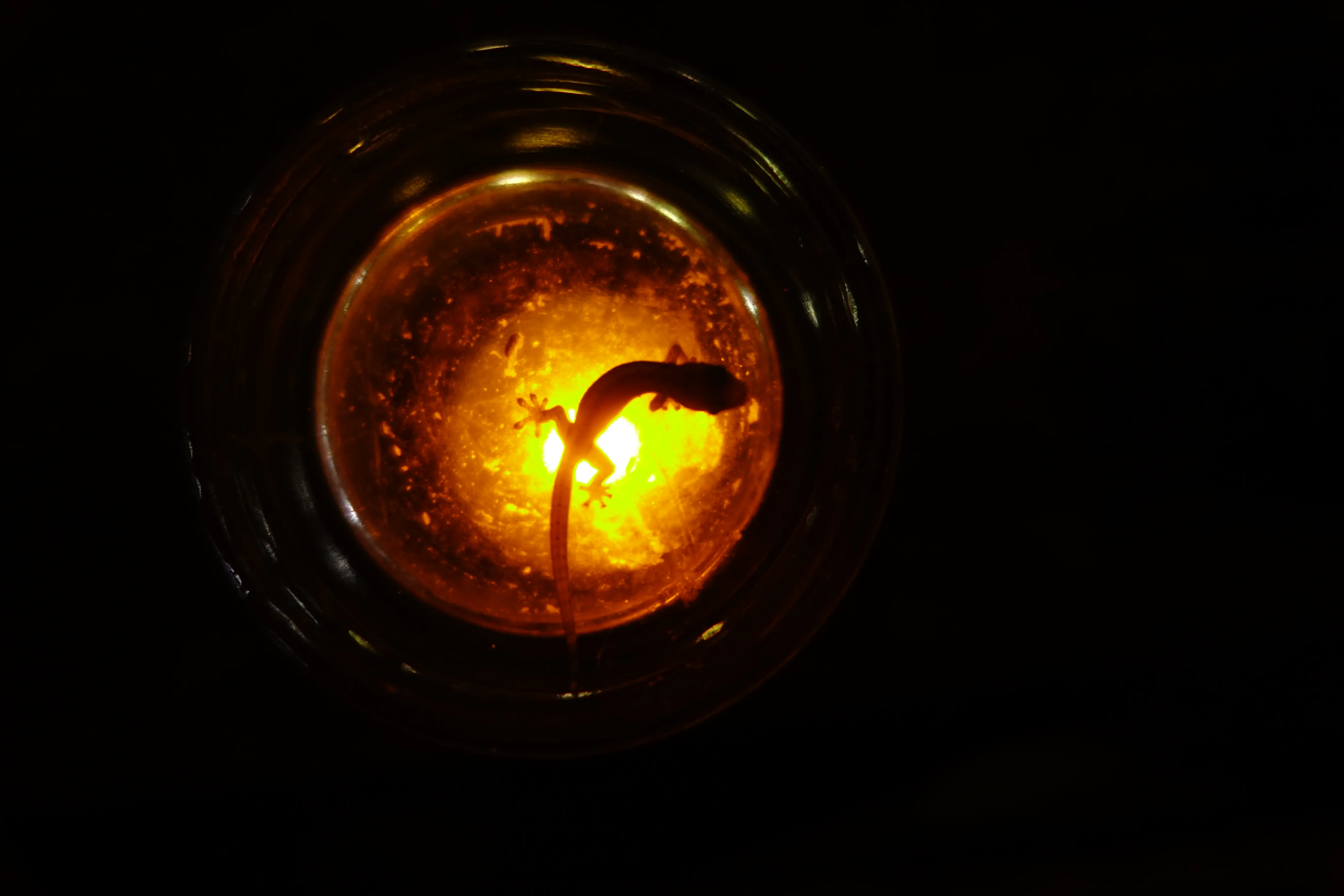 Again, the people were incredibly friendly and helpful. We booked a snorkeling trip to the great barrier reef for the next day.
January 5
We heard howling in the night - possibly Dingos. We didn't see any, though. After breakfast (bacon and eggs again) we hiked down to the bottom of the falls - here's a pretty big spider we found on the way: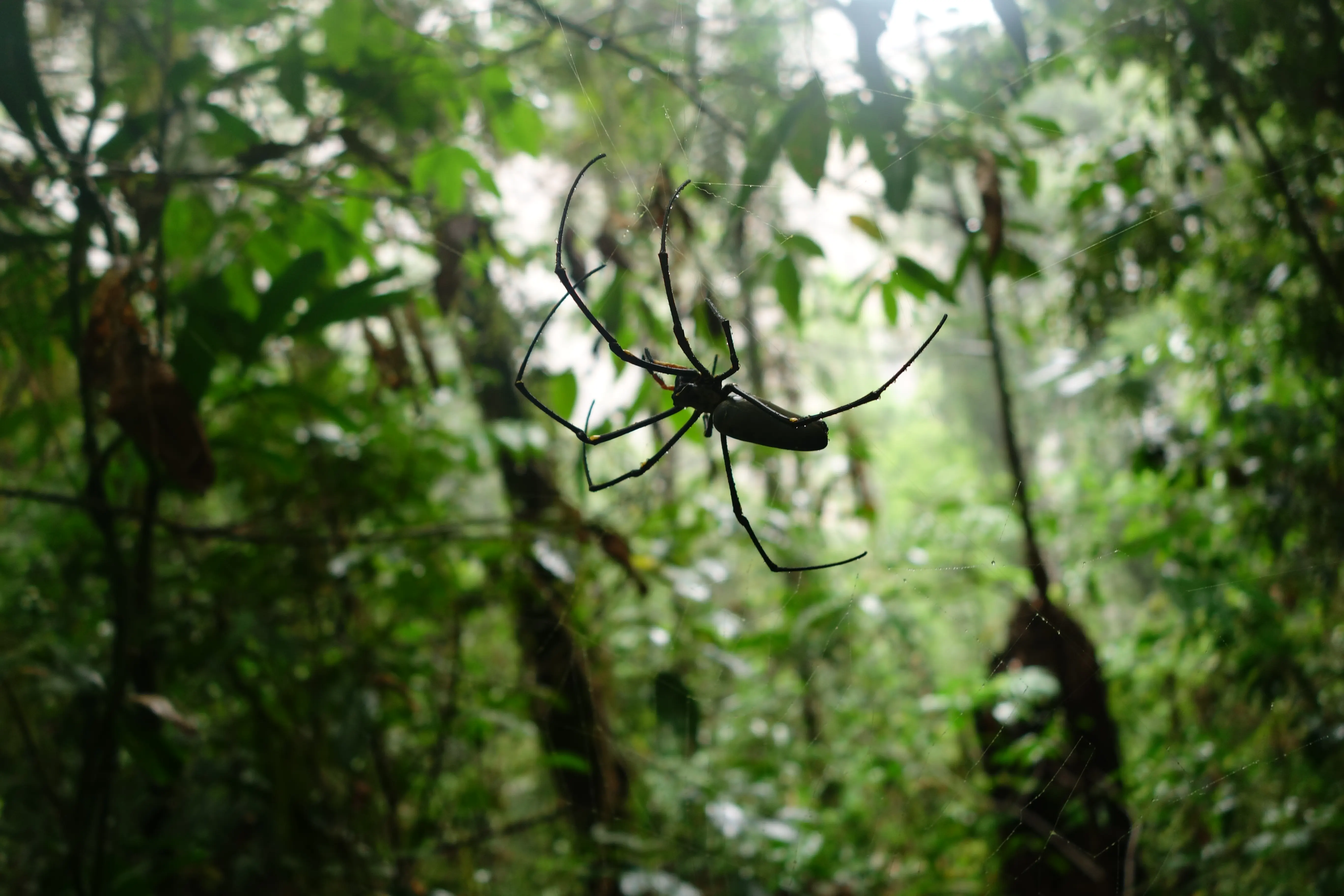 It was very wet and rainy and we were glad that we listened to the ranger and wore proper shoes. The falls are impressive, totally worth checking out!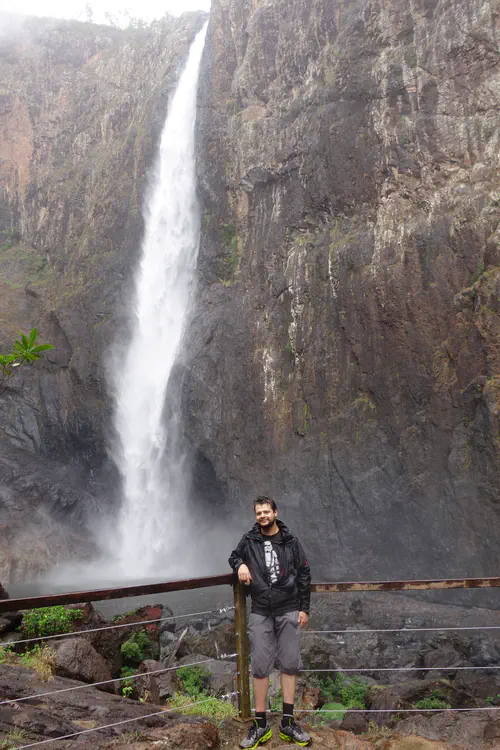 We then drove until Babinda where we camped and used our new tarp for the first time. It was awesome.
January 4
The next morning we got up and I went for a hike from Alligator Creek to Crocodile Creek. Promising names, but no crocodiles. I saw some green ants assaulting a black ant, though.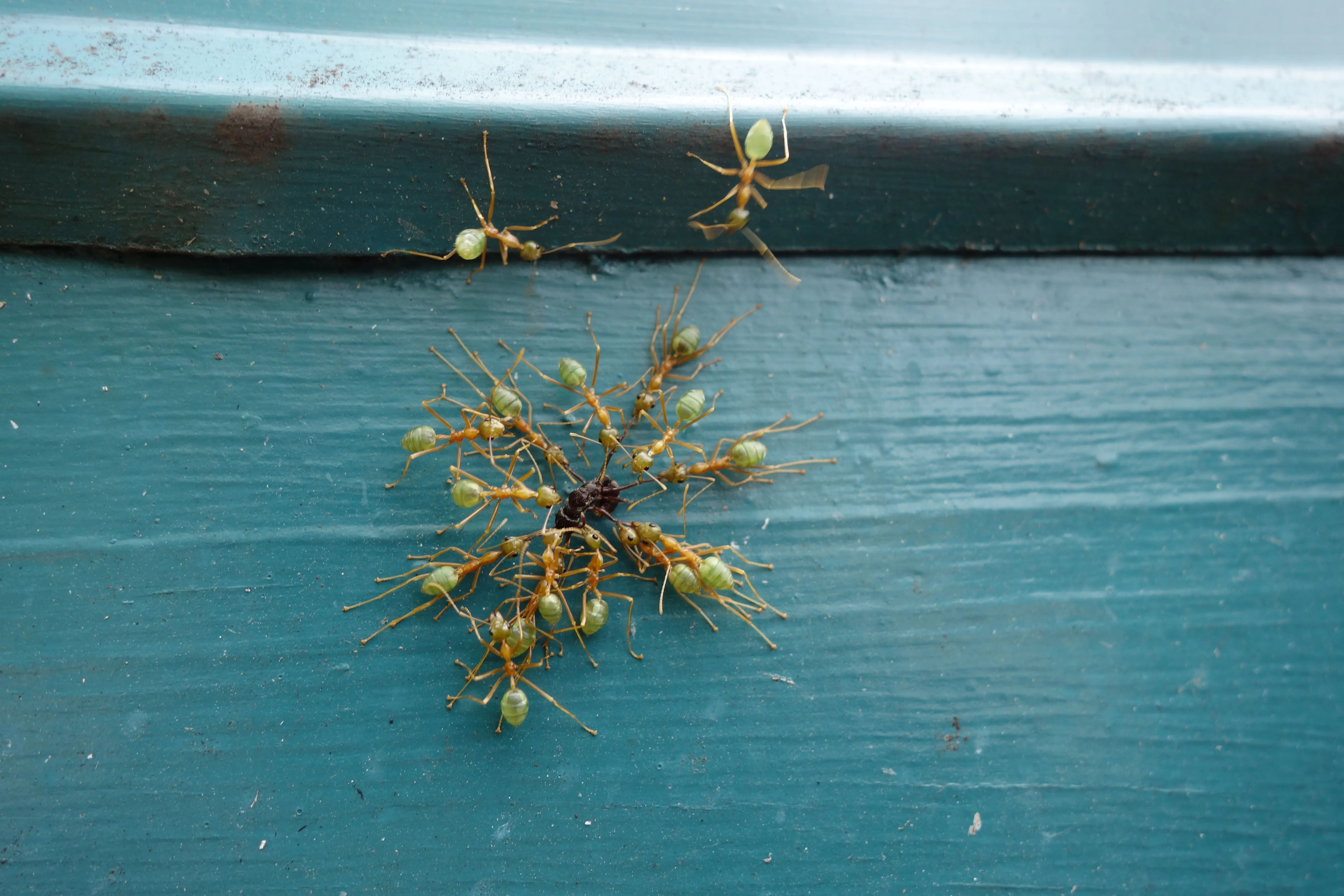 The whole area is very beautiful and has some really nice creeks and strange white trees - they almost look like they have been painted.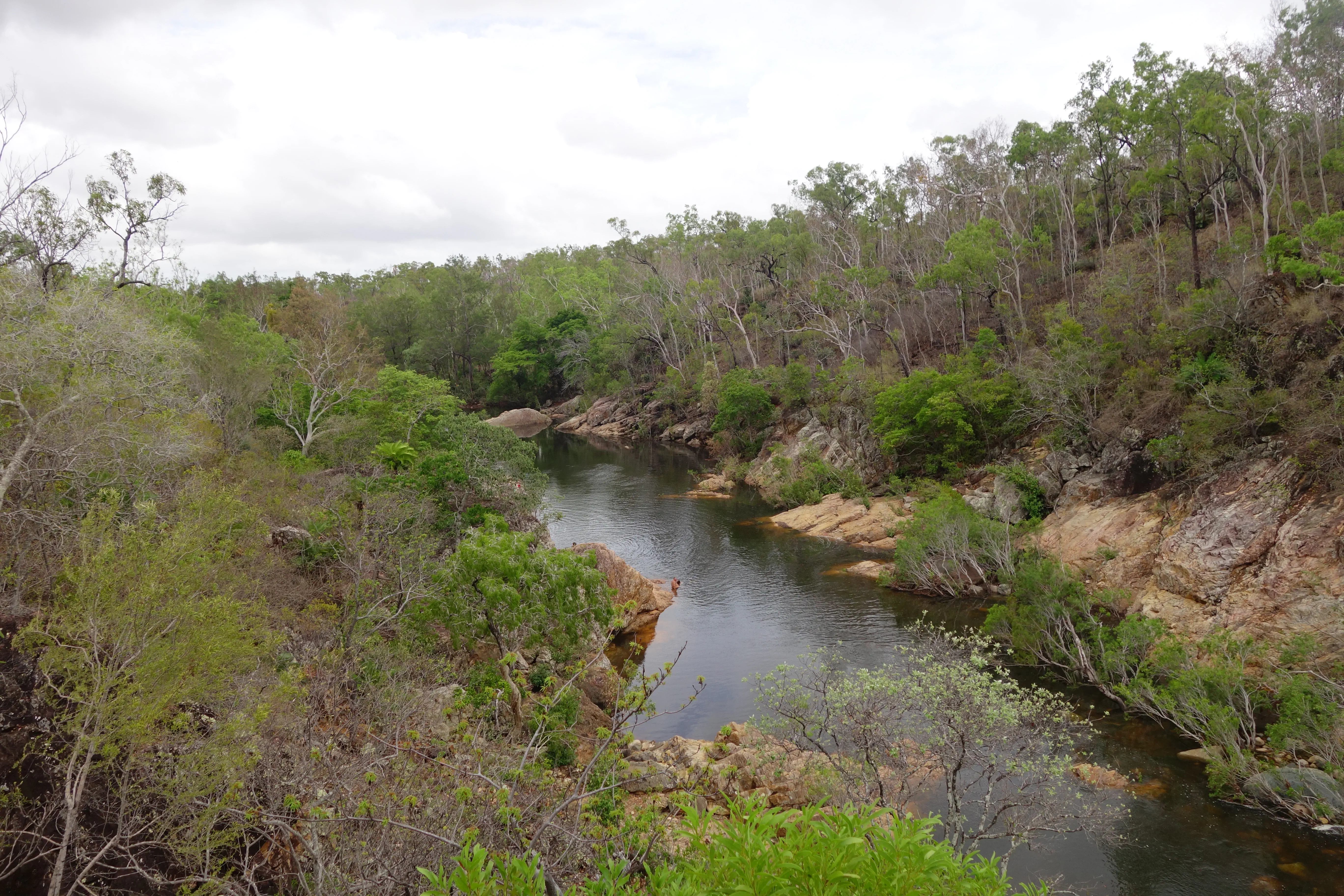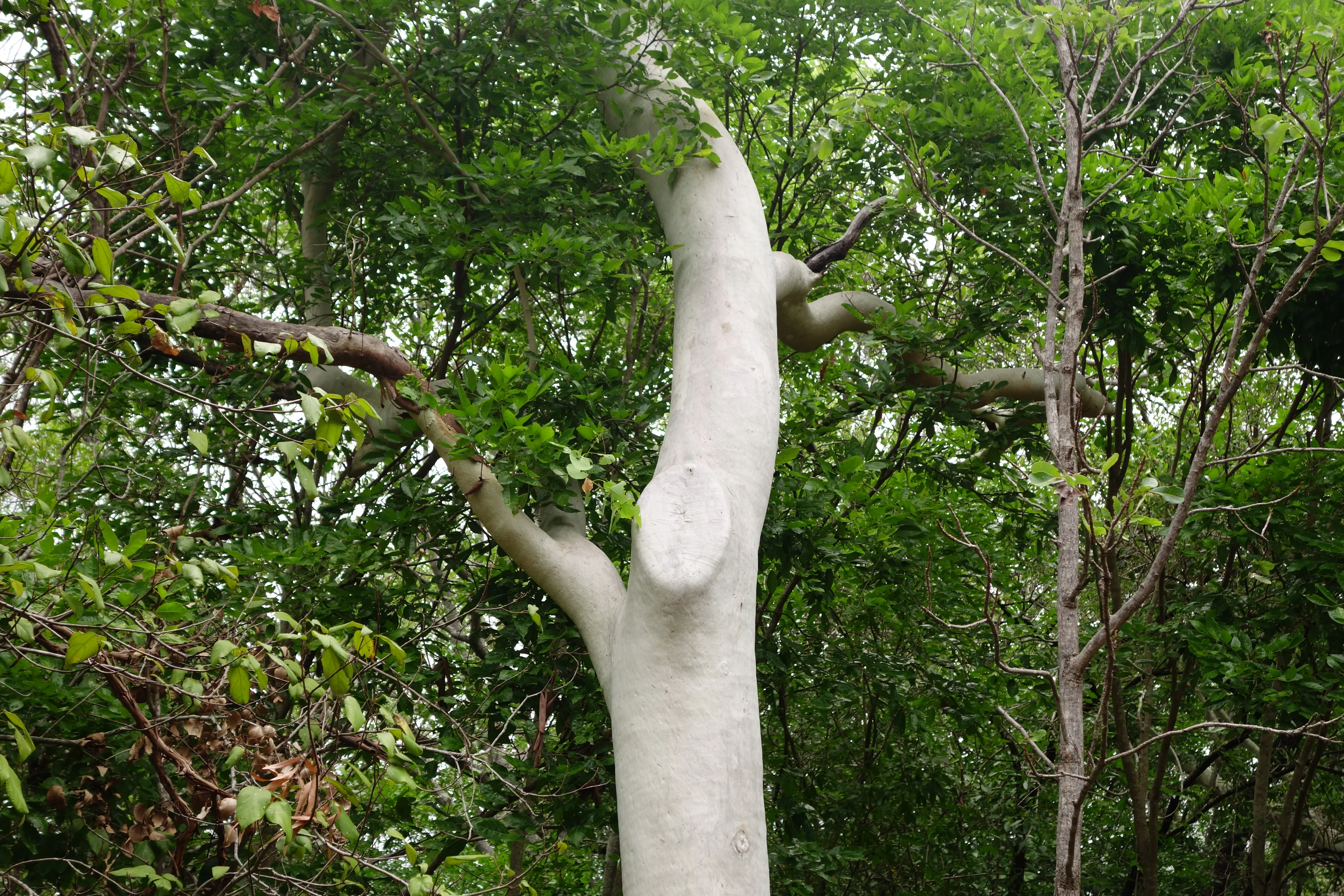 We set off and went checking out the Tyto wetlands near Townsville, and got some information from the local tourist office. The people there were extremely friendly and helpful. The wetlands had a lot of birds and insects crawling around, plus a few crocodile warning signs. Again, no crocodiles, but lots of birds.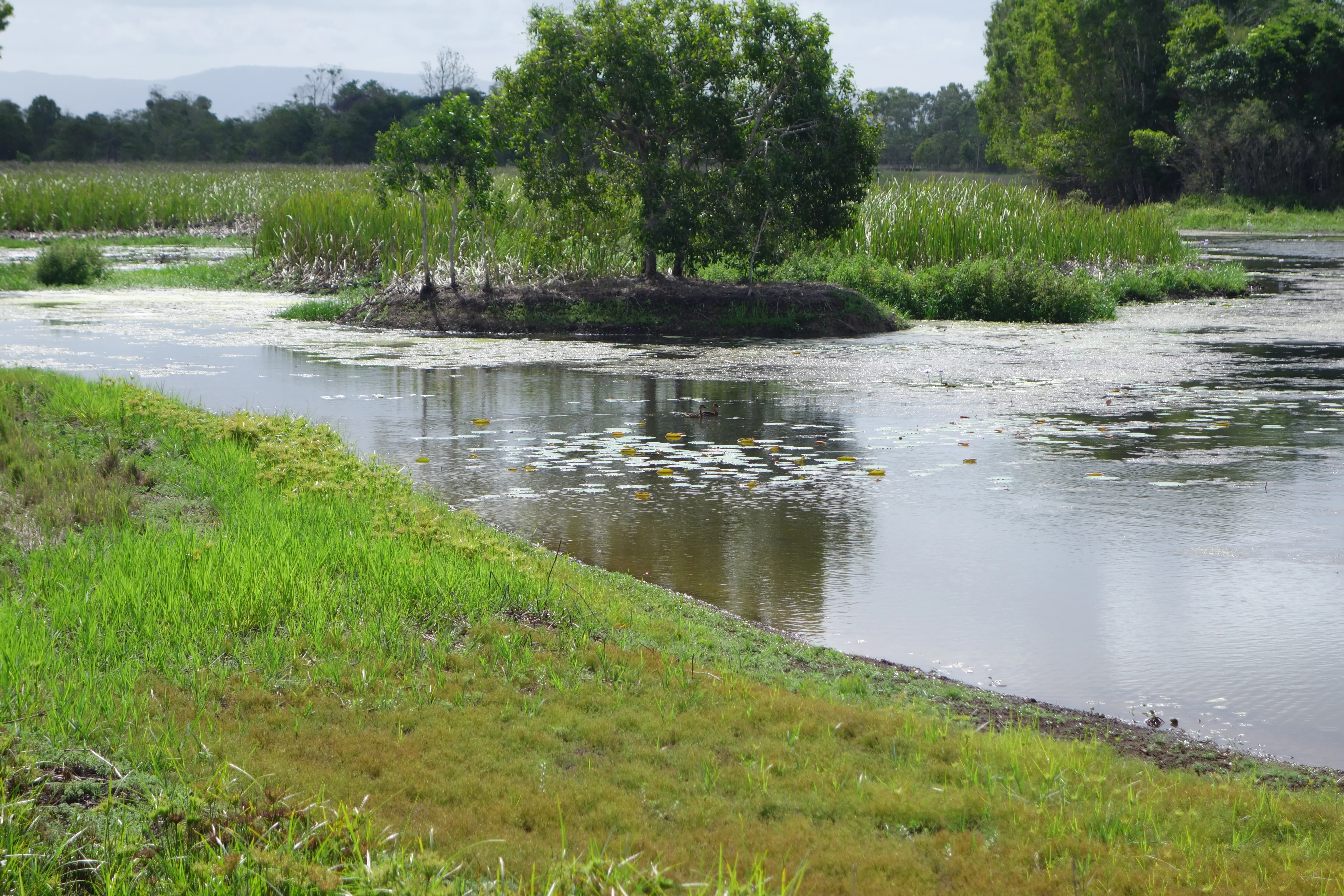 We stopped in Townsville to buy a bigger tarp. The best investment of the trip - we can now finally sleep with the tailgate open, even when it rains! Then we went drove to another camping spot near the Wallaman falls in the Girringun national park, a 300 m waterfall which is one of the highest of Australia.
January 3
We drove to Proserpine near Airlie Beach where we stopped at a bakery with very good donuts and the baker with the world's angriest face. Barbara wanted to book a sailing trip to the Whitsunday Islands for her way back - finally she was able to do so over the phone, so we didn't have to drive the additional 70 km to Airlie Beach.
The next stop was Ayr (how is that pronounced? "Air" or "Ire" or something else?) where we went to a camping store to buy hats. The store had the right kind of hats - we could see them through the window - but it was closed. So we went further into the Bowling Green national park, where we had to get a permit over the phone. It took a while but Barbara got it done somehow. There were a bunch of wallabies and bush turkeys running around - this time I got a picture!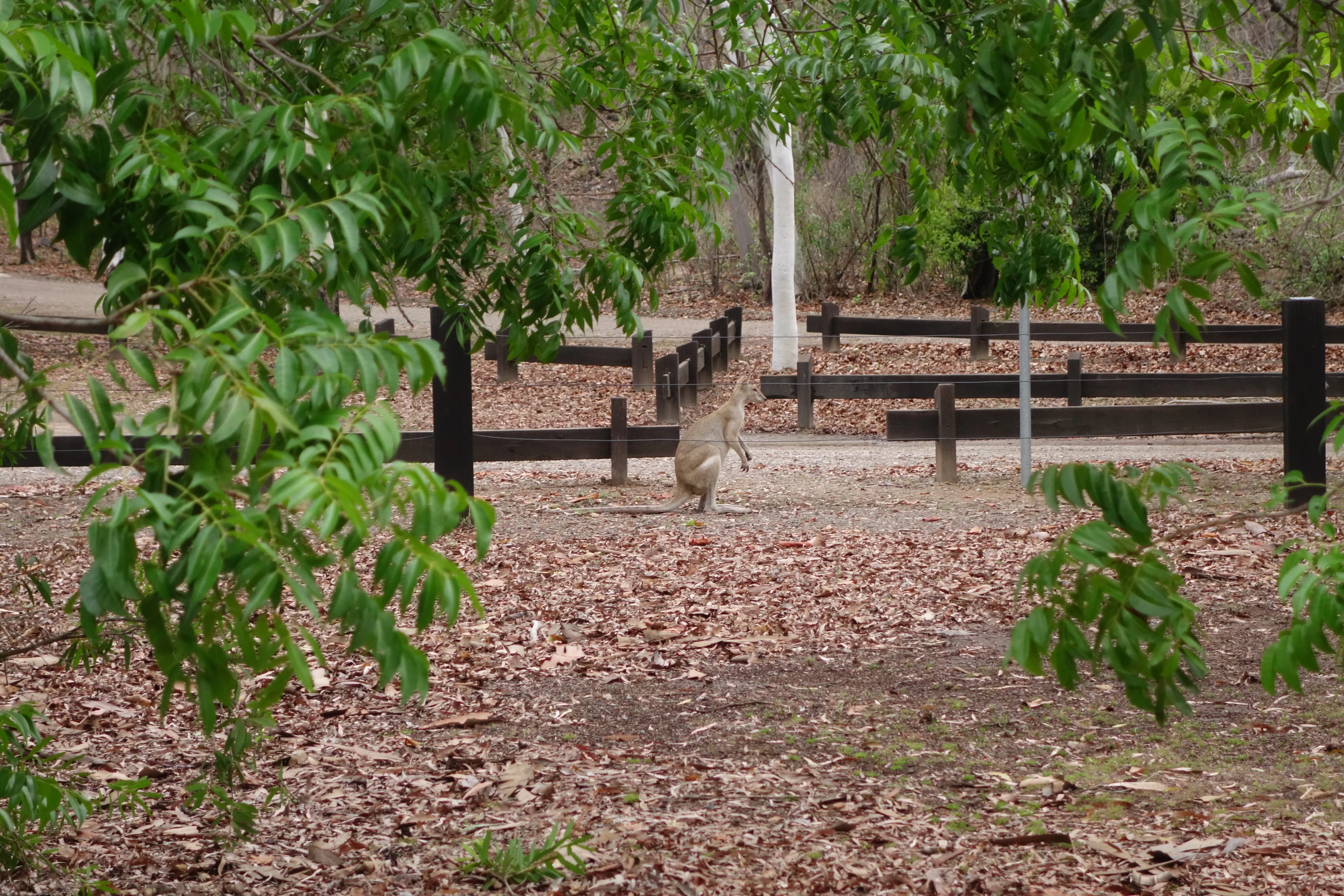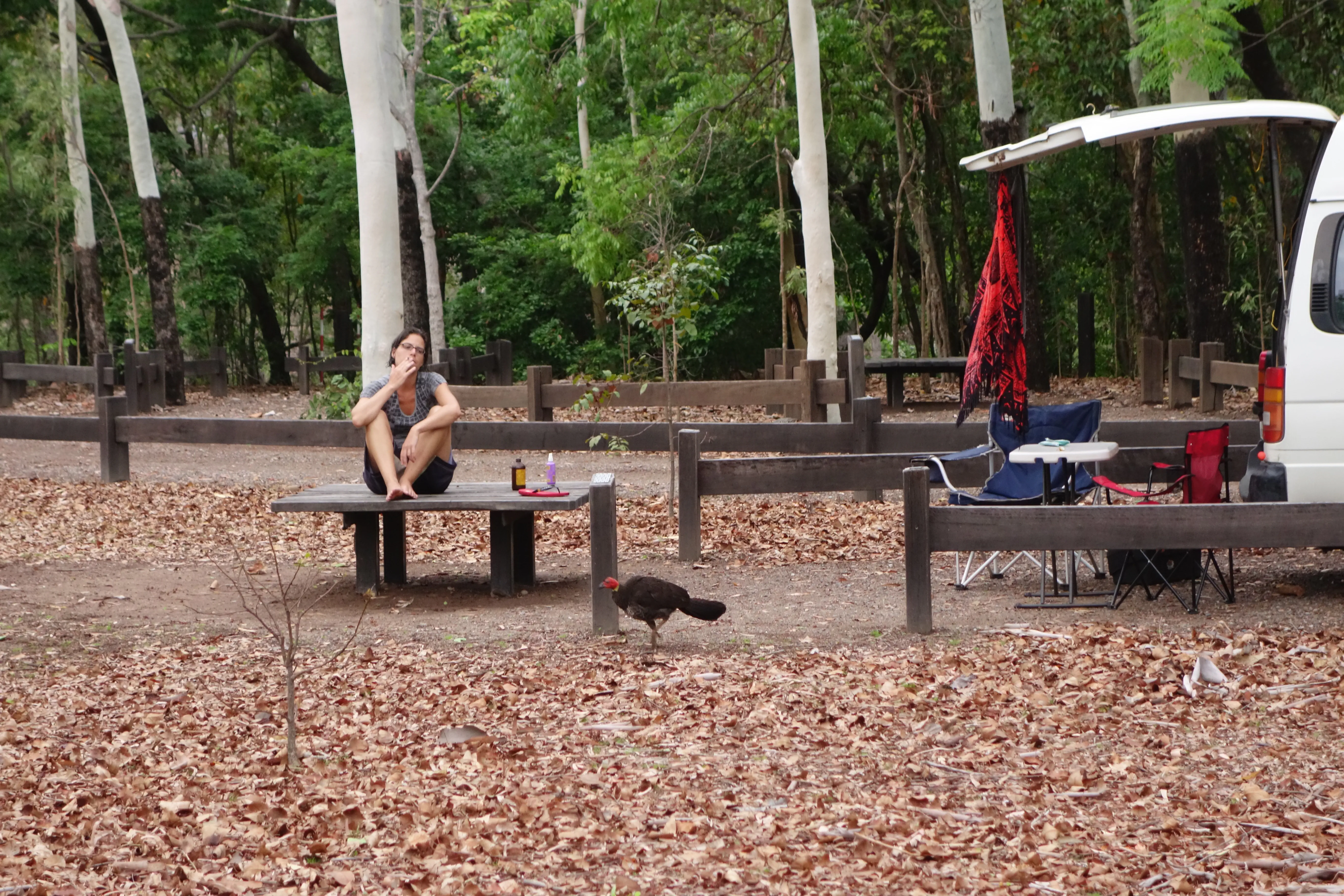 It rained like crazy all night long. We had to close everything, again, but at least it was a bit cooler than last time. We started discussing options on how to improve things for the future, and decided to buy a bigger tarp.