The night was incredibly windy. I had to get up at and tie the tent down because I feared it might collapse. The stakes did not hold in the sandy ground, so I found some rocks and tied the tent to them instead. On the plus side, the wind swept all the clouds away, and the night sky at altitude and away from any cities or towns was breathtaking. I tried taking some pictures, but they didn't come out well - I was shaking too much from the strong wind and the cold.
I'm very impressed how well my $140 budget tent works though - it's been all around California now and hasn't let me down yet (I haven't had any strong rain in it yet, though). Kelty Salida 2, highly recommended as a solo tent (too small for two people, unless they like each other very much). I had arrived in the dark, and only saw in the morning how beautiful the area really was.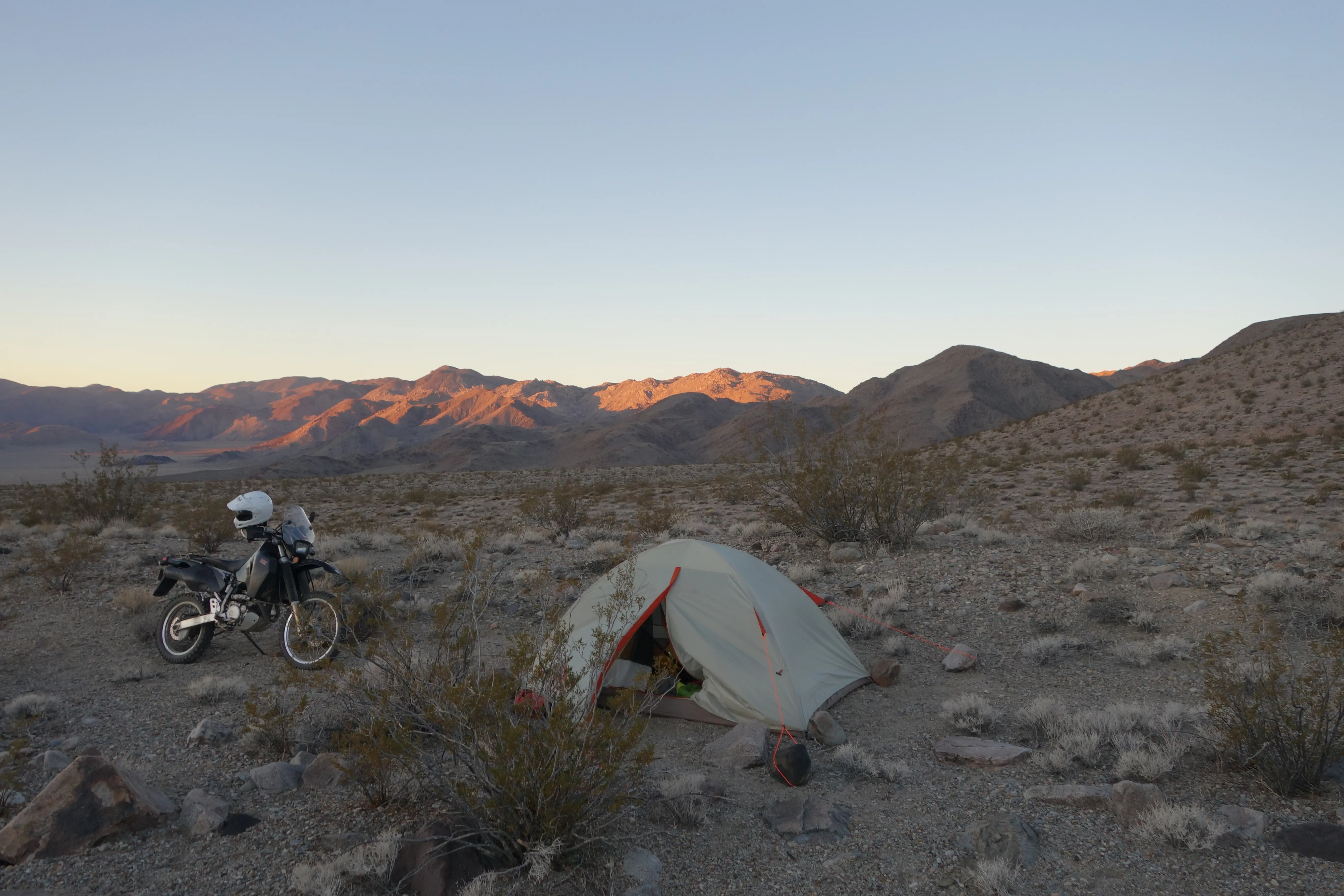 My spot for the second night. Note how the tent is tied to rocks - it's incredibly windy
I cooked breakfast (oatmeal again), packed up and left with destination racetrack playa (one of the main attractions in the death valley, more on it later). On the way, I met some French Canadians and tried my best French on them "c'est la premiere fois en the death valley pour vous?", which they did not understand. I guess my accent isn't as great as I thought. After a few attempts we managed to exchange some niceties.
When I finally made it to the racetrack playa (a few hours away from my camping site), I met a Spanish film crew who was producing a TV show starring a guy on a motorcycle riding around in many places in the world. I was a bit disappointed that he proceeded to ride on the racetrack (you're not supposed to take vehicles on it, because it ruins it), so I left.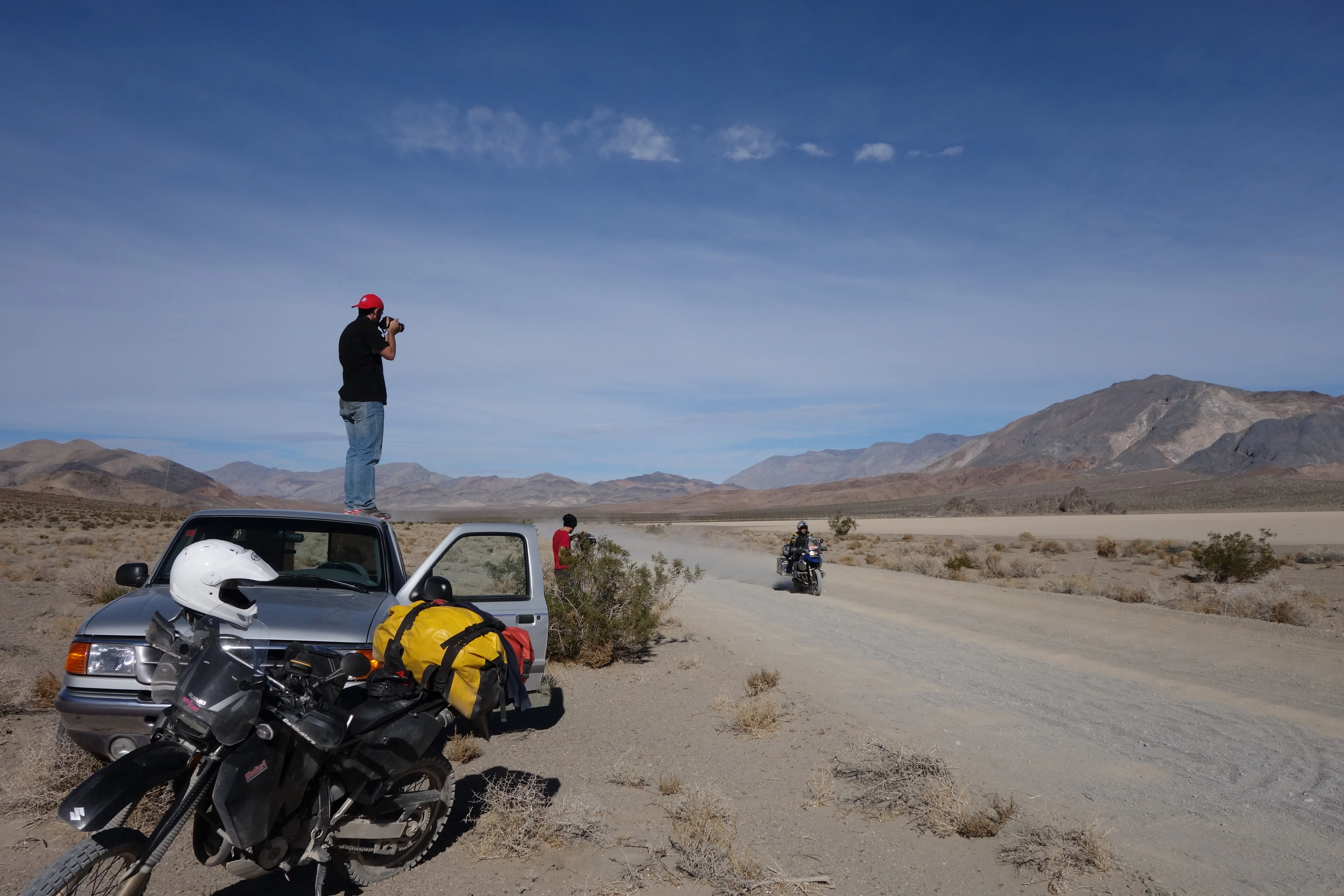 Spanish film crew producing a motorcycle show
The racetrack itself is truly a sight to be seen. You can see the tracks of the rocks which have been moved around by the wind when the playa was frozen - apparently a phenomenon unique in the world, and immersed in an incredible scenery. The pictures do not do it justice.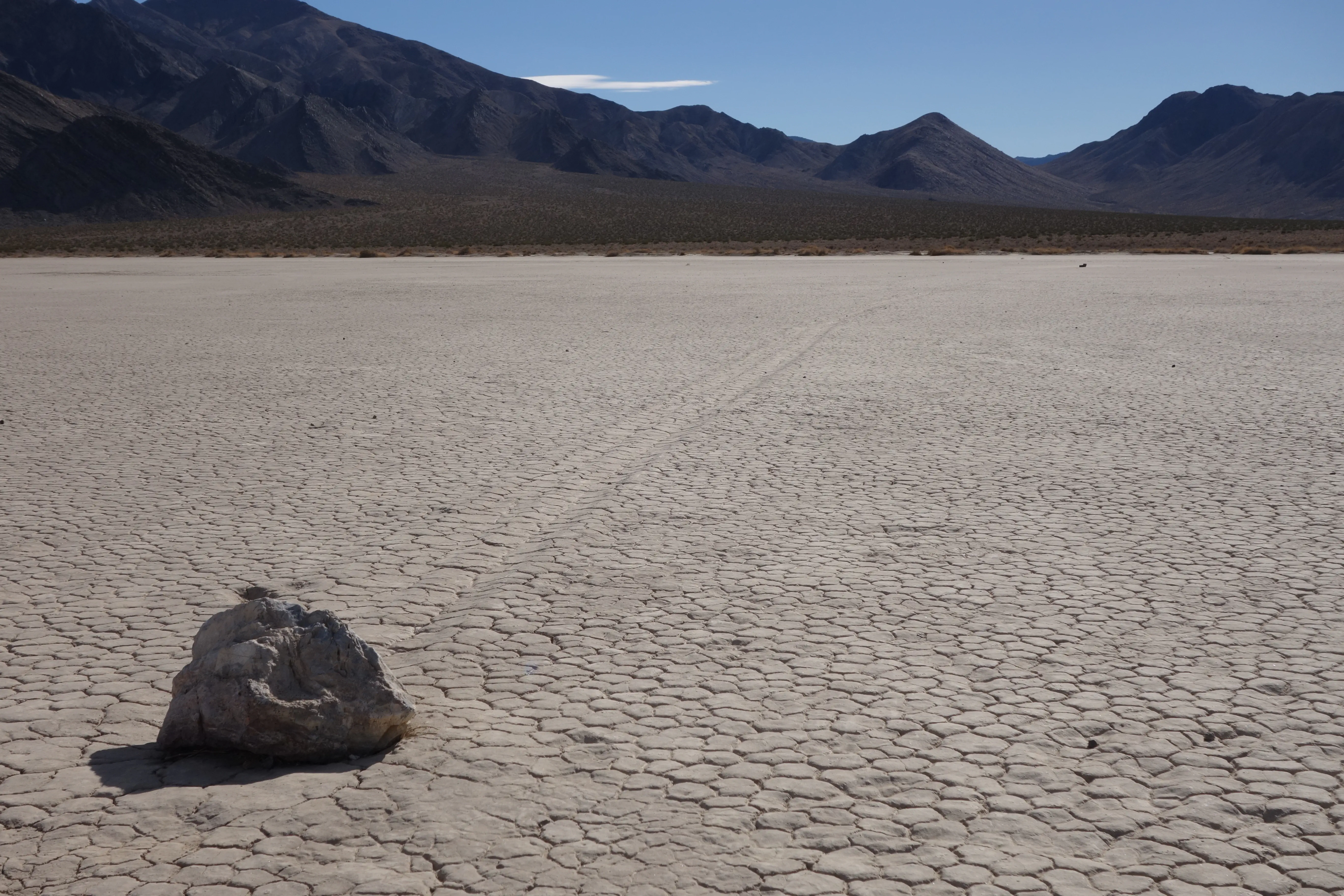 After a while I had enough and decided to do Lippincott pass. I had read that it was quite a tricky road, and it had a big and scary warning sign.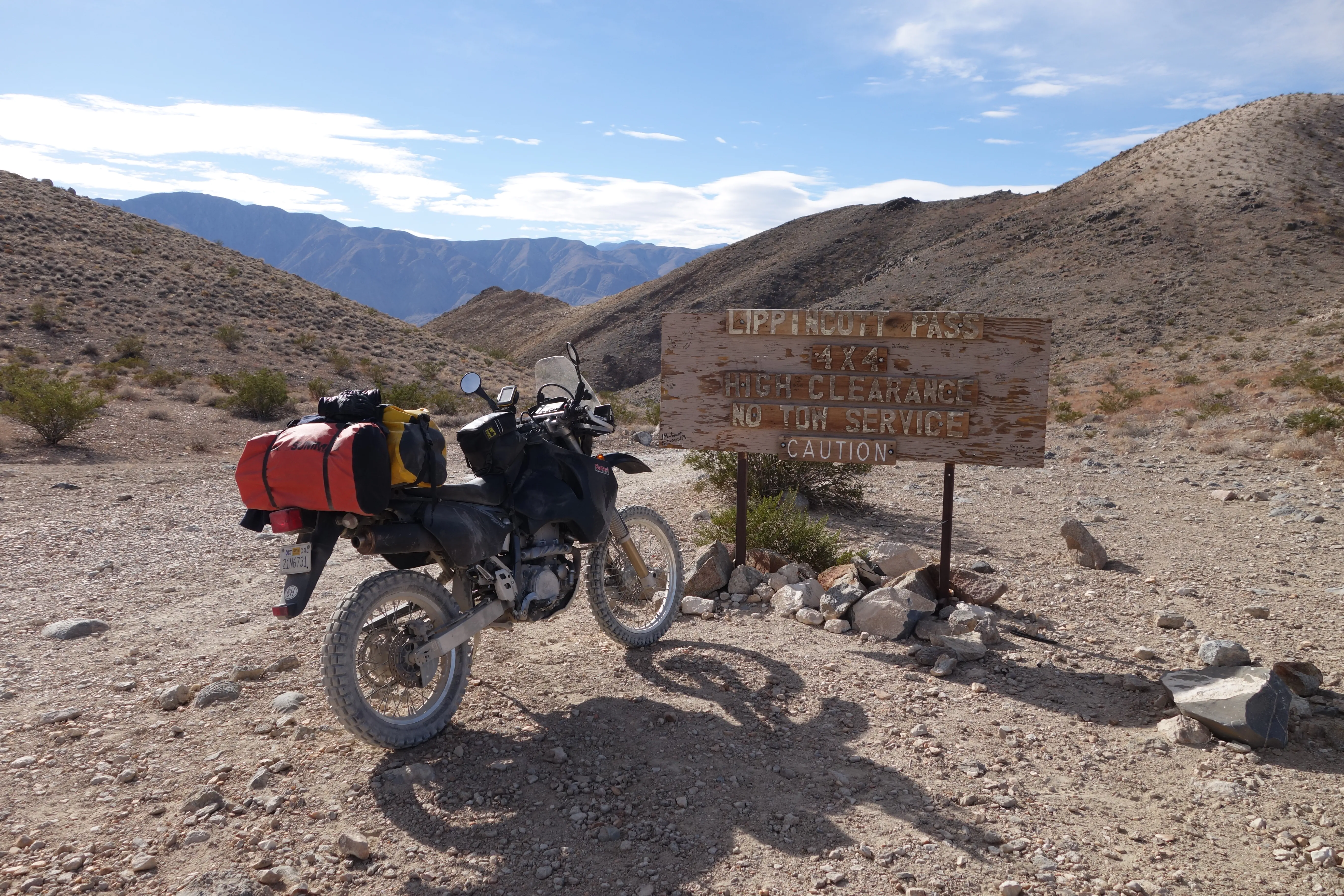 It turns out that it was far shorter and easier than anticipated - the roughest road I did on this trip, but by far not as bad as I had expected. It was followed by 30 or 40 miles on unpaved, deserted roads through an incredible scenery until I made it back to highway 395.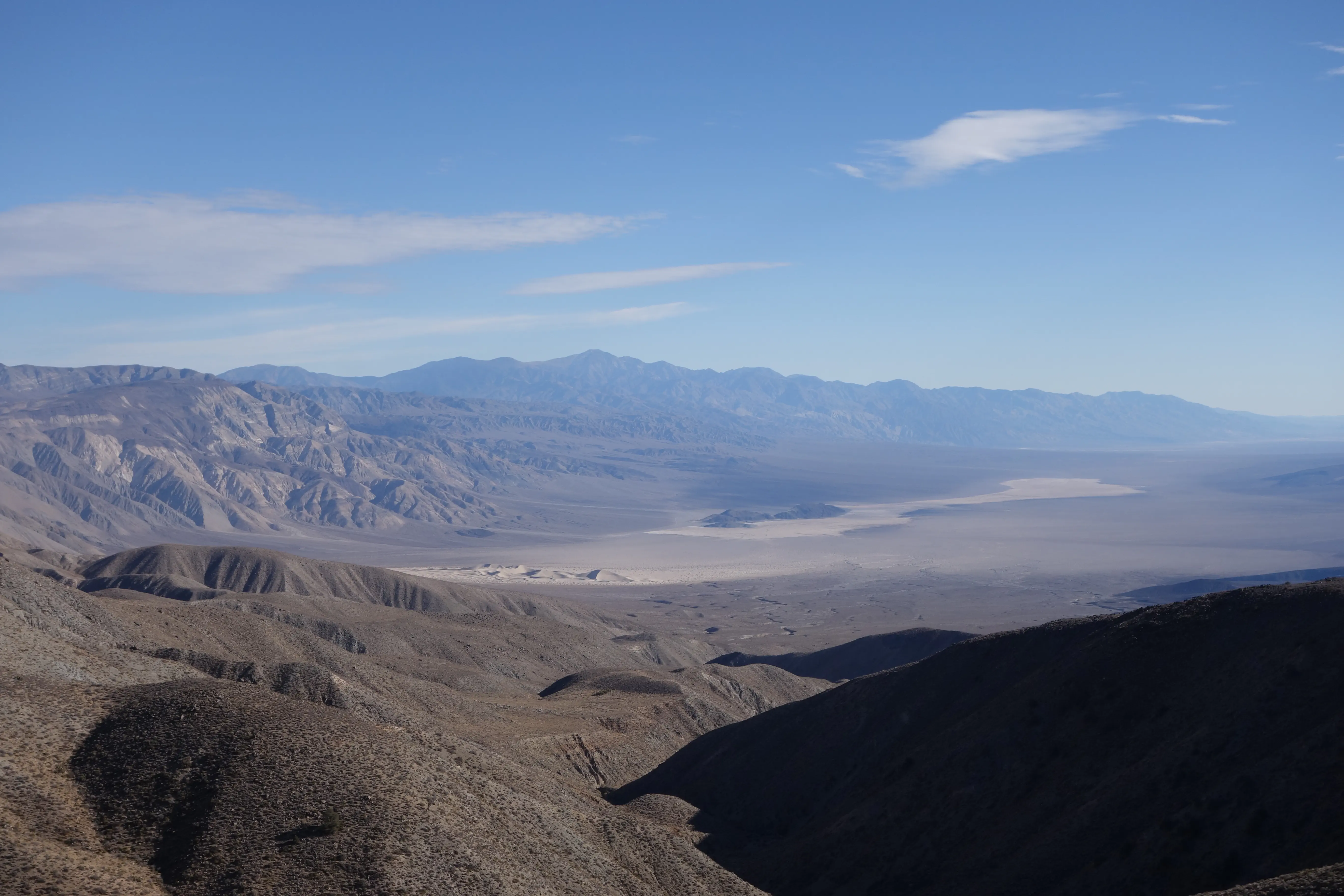 Once I was back on 395, I took the shortest path to Bakersfield, where I stayed at the "America's Best Value Inn". Nothing exceptional on that part of the ride, except that it started out warm and sunny, and ended in the freezing cold. This is the last entry for this trip - the next day is just the journey back from Bakersfield to San Francisco. Update: this is a map of the complete route: