Have you ever wondered what the optimal grit progression is if you are aiming for a 25% increase at every step? Or a 50% increase? Wonder no more! This spreadsheet will calculate it all for you:
Sandpaper grit progression calculator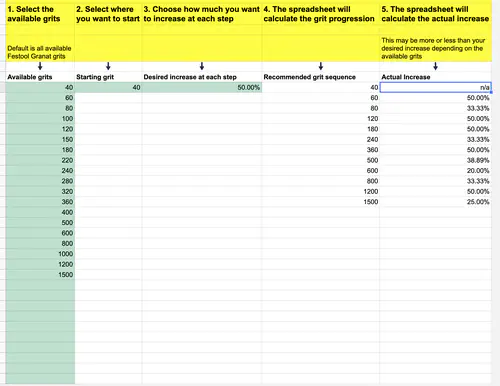 By the way, here are some precalculated progressions, starting at 40 grit. I picked the available grits from the Festool Granat line which has a pretty complete set of grits. The 25% and 33% are probably excessive - I would personally use a 50% progression or something around there.
| Step | 25% Progression | 33% Progression | 50% Progression | 75% Progression | 100% Progression |
| --- | --- | --- | --- | --- | --- |
| Step 1 | 40 | 40 | 40 | 40 | 40 |
| Step 2 | 60 | 60 | 60 | 60 | 80 |
| Step 3 | 80 | 80 | 80 | 100 | 150 |
| Step 4 | 100 | 100 | 120 | 150 | 280 |
| Step 5 | 120 | 120 | 180 | 240 | 500 |
| Step 6 | 150 | 150 | 240 | 400 | 1000 |
| Step 7 | 180 | 180 | 360 | 600 | 1500 |
| Step 8 | 220 | 240 | 500 | 1000 | |
| Step 9 | 240 | 320 | 600 | 1500 | |
| Step 10 | 280 | 400 | 800 | | |
| Step 11 | 320 | 500 | 1200 | | |
| Step 12 | 400 | 600 | 1500 | | |
| Step 13 | 500 | 800 | | | |
| Step 14 | 600 | 1000 | | | |
| Step 15 | 800 | 1200 | | | |
| Step 16 | 1000 | 1500 | | | |
| Step 17 | 1200 | | | | |
| Step 18 | 1500 | | | | |